Note: After opening a gallery, click on images to blow up to full size. Hover mouse over that image to read any captions.
Spontaneous public celebration gathering at the Legacy of Love Monument, on Oak Lawn Blvd. at Cedar Springs Road, Dallas, Texas, June 26, 2015
Songs and Stories from the Turtle Creek Chorale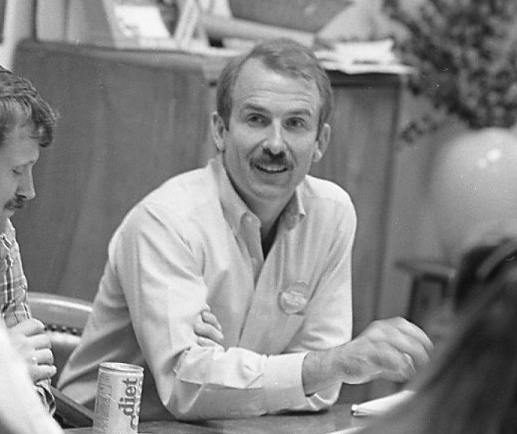 Bill Nelson was a leading GLBT activist in the tumultuous 1980s ... an era of gay political awakening and the advent of the AIDS epidemic in Dallas. A former high school teacher, Bill and his partner, Terry Tebedo, along with friends William Waybourn and Craig Spaulding, opened a retail store at the corner of Cedar Springs Blvd. and Throckmorton in the Oak Lawn neighborhood of Dallas, the "Crossroads Market," which became the epicenter of the activist GLBT community of Dallas for many years to come.
Gay Pride 2017 at Dallas City Hall
Throughout the month of July 2017, the Dallas City Hall main lobby hosted a collection of informative panels, photographs and historic artifacts pertaining to the GLBT community of Dallas. The event was a collaboration among The Dallas Way, the University of North Texas, and the Dallas GLBT Employees Organization.
The "Happy Historians" at work for the GLBT community. These are photos of various board members of The Dallas Way who spent the day going through hundreds of pages of donated archives, organizing and curating them in preparation for donation to the LGBTQ Collection of the University of North Texas, the permanent repository and custodian of archives and memorabilia collected by The Dallas Way in pursuit of its mission.
On October 10, 2018, The Dallas Way hosted an unveiling ceremony of the first historical LGBTQ Subject Marker in the State of Texas, now installed at the corner of Throckmorton Street and Cedar Springs Road. The festivities were co-sponsored by JR's Bar and Grill, located adjacent to the new marker. The project was initiated in June 2016 by Dwayne Jones, President of Preservation Texas, who called a strategy meeting with several Dallas individuals to discuss the possibility of erecting a subject marker for the Dallas gay community, subject to Texas Historical Commission authorization. Three individuals attending that 2016 meeting, Robert Emery (Vice President and co-founder of The Dallas Way), Sam Childers (historical author and member of the Dallas Landmark Commission), and Mark Doty (Chief Historic Preservation Officer of the City of Dallas) formed a local task force to see the project through. The costs of fabrication of the plaque were paid for by generous contributions from the Dallas County Historical Commission and twelve individual donors who contributed to the project at a gathering of The Dallas Way supporters in December 2017.